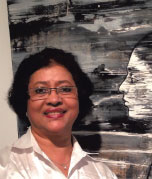 Poet and writer Rummana Chowdhury is the author of eighteen books comprising of poetry, short stories, columns and analytical articles. She did her Master's in Public Administration from the University of Dhaka in 1981 and was Bangladesh's national badminton champion from 1975–1978, during which time she was also nationally acclaimed as a leading debate commentator, radio and television talk show host and recitation leader.
Today, she has become a leading global commentator on issues of migration, violence against women, Diaspora, cultural and historical remembrance strategies, feminist politics and culture. She has received several notable awards including an award from the RCMP (Royal Canadian Mounted Police) for "Meritorious Service" (1997), The Ontario Volunteer's Award (2000), Woman of the Year (Canada 2010), Shouhardya Shommanona (India 2013) and the International Michael Modhusudan Datta Award (India 2014) for her contributions in the field of Bengali language, literature and culture. She has most recently been awarded the 'Satyendra Nath Datta Award' from Kolkata, India, which she will receive in January, 2015.
Originally from Mirsarai, Chittagong, Rummana has been residing in Canada for the last 32 years where she works as an accredited interpreter/translator with the Immigration and Refugee Board of Canada and The Ministry of the Attorney General. She has been designated as an Expert Witness in the field of social and cultural conditions of Bangladesh by the Supreme Court of St. John's, Newfoundland, Canada since 1997.