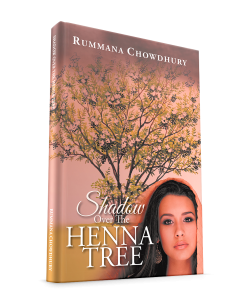 Author Rummana Chowdhury captivates readers with Shadow Over The Henna Tree.
This is the touching love story of Moyna, born and brought up in Toronto, who goes to discover her roots in Bangladesh, and Shafiq, who is a Bangladeshi war baby, (War of Independence of 1971) but has been adopted and raised in Canada. The readers are immersed with the cross cultures of Bangladesh and Canada. Many a time her inherent lessons from Shakespeare, Maugham, Ondaatje, Atwood, Darvesh, and Akhmatova are pinned against her personal inground teachings of Zainul Abedin, Jasimuddin, Lalon Fakir, Hason Raja, Tagore, and Nazrul. Her inward-eye ponders over the literary crosscurrents of Buddhism and Sufi poetry and the world of Humayun Ahmed and Shamsur Rahman. Moyna's confusion has no boundaries. The fruits, blossoms, and seasons of Bangladesh are compared with the changes of nature in Canada. The Murshedi, Bhatiali, and devotional songs of the East are contrasted with the country, jazz, blues, and folk songs of Canada.
The universal language of poverty and suppression, of forceful acceptance- these are lines that Moyna must learn to blur as a diasporic South Asian female.